The Squares Of Philadelphia
Southwest (Rittenhouse) Square, Southeast (Washington) Square, Northwest Square (Logan Circle), Northeast (Franklin) Square and Centre Square (City Hall) all offer something free to do in Philly.
Originally planned by William Penn when he laid out the city of Philadelphia, Pennsylvania in 1682, the Squares of Philadelphia are five open-space public parks.
Rittenhouse Square in Center City Philadelphia is an example of one of the city's squares. The public park is a great place to stroll, eat lunch or listen to street performers play music. On a regular basis, the Square hosts festivals and markets.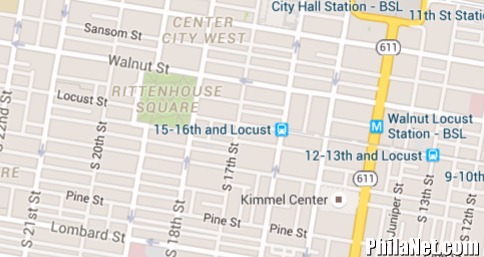 Rittenhouse Square Map of Philadelphia
Franklin Square is another of the five original squares. It is located in the Center City area, between North 6th and 7th Streets, and between Race Street and the Vine Street Expressway (I-676). Local legend maintains that Franklin Square is where Benjamin Franklin conducted his "kite and key" electricity experiment in 1752.
More free and low cost things to do in the Philadelphia Area: